July 18, 2019
R. J. Corman Introduces New Locomotive Simulator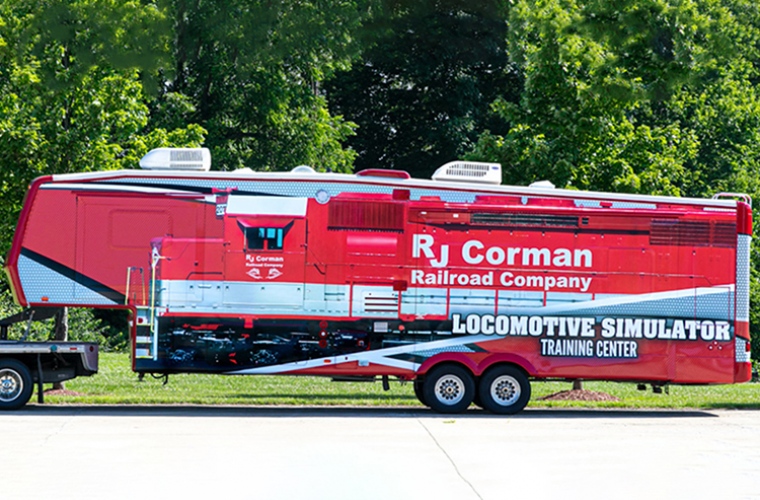 R. J. Corman Railroad Switching Company is putting together a locomotive simulator for the purpose of training and testing locomotive engineers and conductors. The mobile locomotive simulator is designed to help improve employee safety, operator efficiency, and the longevity of the equipment by having operators with better training and higher efficiency, therefore lessening the strain on the equipment and extending its life.
There are very few Class II and III railroads that have tools and resources like the locomotive simulator. R. J. Corman adapted the idea from the Class Is with simulators, and now we will also have the resource to utilize with our employees, makes us more competitive. The locomotive simulator will be largely utilized by our railroad company and our railroad switching company. CSX and Conrail have similar products, which is where R. J. Corman learned about the product, and why we began looking into a practical, useful invention to implement into our own company. R. J. Corman selected PS technology's product because it is great program that is very user friendly, which impressed our team.
Danny Puckett is heading up the project with John Phillips, Jordan Sparr, Matt Durham and Ben Jeremiah. Also assisting is Billy Perkins and Craig Vahle from Buildings and Structures, Aaron Corle and Justin Gillis from the Shop, Darrell Gaddis, Roger Coffey and Greg Hoskins from the Fab. Shop, Tyler Adkins from Graphic Arts, and Rich Holmes from the Decal Shop. The project started and was in the beginning stages of brainstorming one year ago, around July 2018. John Phillips met with PST, and felt that R. J. Corman could use and implement the program.
Once R. J. Corman received the equipment to assemble the simulator, we installed it and modified it to work in a fifth wheel trailer, which posed challenges. The trailer had to be gutted and the simulator control had to be fitted into the fifth wheel trailer. There is only one other locomotive simulator that is mobile and has the transporting capabilities ours has. Along with the simulator, there are computers, as well as a large TV strapped on the wall that has to withhold transportation.
The trailer will be moved and placed at strategic locations so that Railroad Company and Switching Company engineers and conductors from divisions in the vicinity can come in, utilize the simulator and develop their skills. R. J. Corman has great trainers that help employees to become proficient engineers and conductors through teaching and testing. However, computers can pick up on more than what a human might because computers can pick up on multiple ques at once. Then, the computers can be unbiased with scoring employees, which gives us a true score to compare to in the future, and gives us better operators in the long run. These scores can help the trainers as well by indicating how they did with training, where they can improve, and whether or not the employee they trained passed. The implementation of the new locomotive simulator has hit all behaviors of the Leadership Model.