February 14, 2023
All R. J. Corman Divisions Mobilized for a Safety-Driven Culture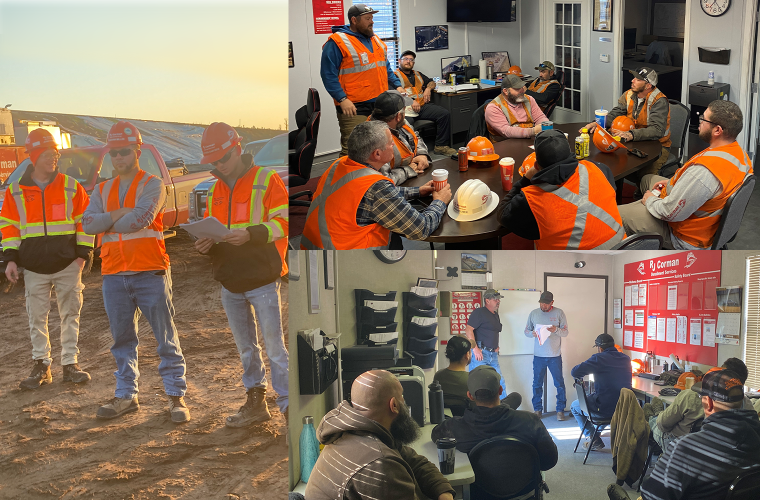 On Monday, February 6 through Friday, February 10, all 70+ R. J. Corman locations throughout the country reviewed critical safety points for their operations during the company's 'Safety Commitment Week.' 'Safety Commitment Week' is a company-wide initiative that started in 2016 by setting aside five days during the year's first quarter to go through the importance of safety and building a safety-driven culture.
This year R. J. Corman divisions in more than 20 states received a package with material that included safety topics printouts, company-specific material, safety commitment pledges, and more to be discussed daily. Each day, the teams had a safety stand-down to review the day's safety topic. The all-company themes ranged from the importance of job briefings, training & compliance, safe vehicle operations, and proactive personal safety attitude to the use of proper PPE. Given the diversity of services offered by the R. J. Corman companies, the divisions also had the opportunity to discuss topics about their specific companies in the form of "5 Critical Safety Points" cards, which employees can keep on hand to access the information throughout the year.
Every team member was invited to incorporate the campaign slogan "I am committed to safety today" into their daily work and sign a safety pledge. This safety pledge is an annual commitment to safeguarding the well-being of their colleagues and themselves and keeping safety as a priority.
A corresponding article accompanied the daily safety briefings on R. J. Corman's internal communications platform, 'The Mainline,' where employees could also participate in a daily safety quiz and win exciting prizes.
For R. J. Corman Railroad Group, safety is the number one priority and one of its "Big Rocks," the company's pillars of corporate culture. "Safe operations and a safety-first mentality will always be our priority. We want everyone to return home safely to their families at the end of the day," said R. J. Corman Railroad Group President and CEO Ed Quinn. "I want to thank all our team members for actively participating in this initiative and for their safety commitment EVERY DAY."