June 13, 2023
R. J. Corman to Host Nicholasville's 2023 Independence Day Fireworks Show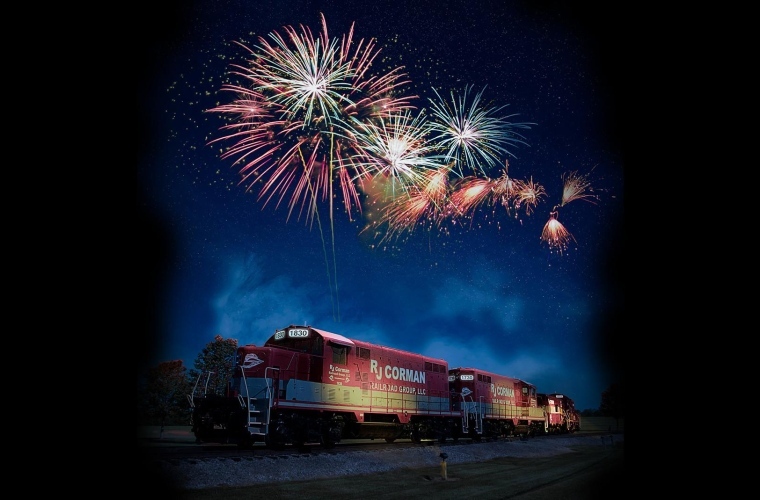 R. J. Corman Railroad Group is thrilled to announce that it will once again be hosting Nicholasville's annual Fourth of July Fireworks Show. We are honored to join in the celebration of our nation and our freedoms by presenting an exceptional fireworks display from our headquarters.
The fireworks will be launched on July 4th from the same location at the R. J. Corman Nicholasville Farm as last year, within view of our iconic display trains.
Limited parking will be available for free on the R. J. Corman property near the launch site. No tickets are required for entry, and the gate will remain open from 8:00 pm to 9:30 pm (or until capacity is reached). You can find the entrance at the Wilmore Road (KY-29) intersection and April Highway, across from the Lone Oak subdivision entrance (refer to the map included below or click here to open the entrance location on Google Maps.)
We sincerely thank the Nicholasville Police Department, Jessamine County Sheriff's Office, Jessamine County EMS, Wilmore Police Department, and the Nicholasville Fire Department for their invaluable assistance in making this community event possible.
We kindly request that all attendees adhere to the instructions and recommendations provided by officials. Please note that R. J. Corman's facilities are designated as tobacco-free zones; this includes e-cigarettes. Additionally, the use of fireworks, grills, and tents of any kind is strictly prohibited. Consumption or possession of drugs or alcohol is also forbidden.
Regardless of rain, the fireworks show will proceed as planned. Any cancellations will be announced in the event of severe weather conditions on the official R. J. Corman Facebook page.
We feel privileged to have this opportunity to give back to our incredible community and commemorate our great nation's independence.