December 1, 2021
R. J. Corman Railroad Company, LLC., Announces Service Line Transload Connect and Strategic Alliance with RSI Logistics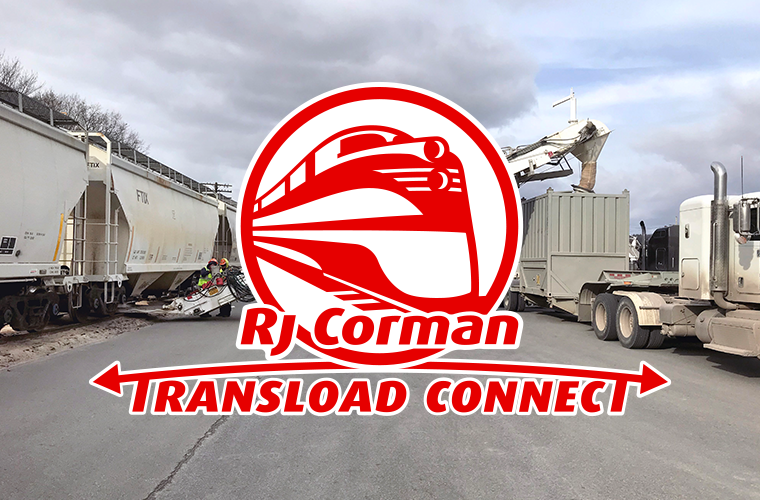 NICHOLASVILLE, Ky. - R. J. Corman Railroad Company, LLC., a subsidiary of R. J. Corman Railroad Group, LLC., the One Source service provider for all facets of railroading, is pleased to announce the rebranding of its transloading services as "Transload Connect."

Transload Connect is R. J. Corman's line of services focused on custom transloading solutions tailored to each customer's supply chain. An integral part of many supply chains, transloading is the process of transferring materials and cargo from one mode of transportation to another. Transload Connect specializes in moving materials and products between trucks and railcars to leverage the significant cost savings with railroads for longer distances.

This rebranding goes along with a substantial focus on human capital that will positively affect R. J. Corman's customers. Transload Connect's business partners will receive a more customizable service, direct communication, and the high operational and safety standards that have led the company to be recognized as one of the best in the industry.

Transload Connect offers an array of top-of-the-line service customization. From a full-serve approach, where every asset throughout the process is provided, including specialized machinery, the use and access to railroad lines and technical experts, to a self-serve solution where the customer utilizes its teams and equipment combined with Transload Connect's in a joint effort.

Transload Connect has 22 strategically placed transloading facilities across 11 different states. These locations, along with R. J. Corman's 17 short lines and access to a vast network of North America's Class I railroads such as BNSF Railway, CSX Transportation, Norfolk Southern, and Union Pacific, provide access and opportunities to essential areas throughout the United States.

Along with this rebranding, R. J. Corman Railroad Company is proud to announce that it signed a strategic partnership agreement with RSI Logistics. RSI Logistics, a leading provider of software and logistics solutions for the railroad industry, will enter into a marketing alliance with R. J. Corman's Transload Connect and serve as its third-party operator at selected R. J. Corman sites.

"We are excited for the possibilities that Transload Connect and the partnership with RSI Logistics might create for our customers' future. This rebranding and alliance enable us to provide tailor-made solutions to reach the maximum potential of our customers' supply chain. Our experienced team of Commercial Development representatives can help customize a transload service and assets for any client and even effortlessly onboard customers that never thought that transporting their materials and products over the railroad was a possibility," said Russ Epting, R. J. Corman's AVP of Distribution Services.

Alongside a newly designed logo that follows the same brand values of the R. J. Corman Railroad Group, Transload Connect launched a dedicated website encompassing key information about the service, examples of successful transloading operations, a map of its transloading network, and more.

###

About Transload Connect
Transload Connect builds custom supply chain solutions utilizing the advantages of efficient railroad transportation along with the accessibility of trucking. Transload Connect is an initiative of R. J. Corman Railroad Company, LLC. For more information, please visit https://www.rjcorman.com/transloadconnect

About R. J. Corman Railroad Company
R. J. Corman Railroad Company, LLC operates 17 short line railroads in 11 states and is a subsidiary of R. J. Corman Railroad Group, LLC. Altogether, the company employs approximately 1,500 people in 22 states. In addition to short line railroad and switching operations, R. J. Corman companies provide a broad scope of services to the railroad industry such as emergency response, track material distribution, track construction, and signal design and construction.

About RSI Logistics, Inc.
Logistics, Inc. is a premier rail logistics solution provider and has helped customers in every major industry improve the effectiveness of their rail transportation. A range of solutions, including logistics services, rail management software, transloading solutions, and more, allow RSI Logistics to tailor services to a customer's needs. With over 20 locations in 14 states, RSI Logistics has been successfully helping organizations improve their rail shipping since 1984.

For more information about RSI's terminal locations, please visit Rail Terminal Services | Bulk Terminal - RSI Logistics.