March 1, 2017
R. J. Corman Storm Team: Washout in 18 Locations Throughout Missouri and Arkansas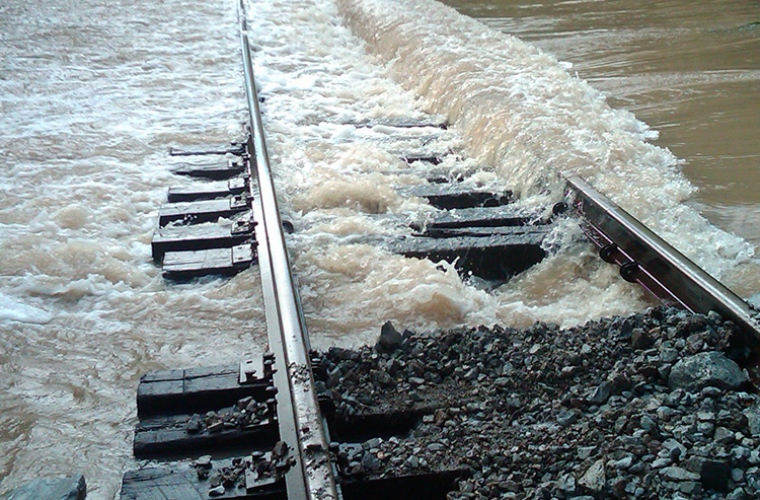 On April 29th, 2017, R. J. Corman's Storm Team was dispatched in response to flooding in Missouri and Arkansas. In 19 days, 120 different R. J. Corman employees performed over 13,000 hours of work repairing multiple washouts in 18 different locations.
The success of this project would not have been possible without the collaboration of all of R. J. Corman's departments and divisions. Individuals from 25 R. J. Corman divisions, ranging from operations, shops, payroll, finance, sales and safety, played a role in the completion of this work. In addition to the staff who responded directly, employees in several other divisions stepped up to take on the work of those who had been occupied with their Storm Team duties. Eight different R. J. Corman Railroad Services divisions from Florida to Texas responded to this flood in order to get BNSF and Union Pacific back up and running as quickly as possible.
R. J. Corman Storm Team used 151 pieces of equipment throughout the duration of these 18 projects. Among those were: 16 excavators, 14 rotary dumps, 6 loaders, 3 grapple trucks, 2 bulldozers, 2 crawler carriers, 2 command centers, 1 backhoe, 22 light plants, 44 pickups and 28 road tractors. Supplementing the R. J. Corman crews and equipment, 5 subcontractors worked alongside to expedite the completion of the washout repairs. Those companies assisted in providing over 100 dump trucks for the movement of 134 million pounds of rock to the work area.
Perhaps the most important thing to note about this project is its commendable safety record. Throughout the month-long endeavor, zero recordable injuries were reported. This was made possible by each one of our employees consistently committing themselves to performing their duties safely.
We extend our thanks to all of the employees who took part in the completion of these projects. Thanks to the following eight Railroad Services Divisions for their assistance in responding to this incident: St. Louis, Columbus, Houston, Kansas City, Nicholasville, Council Bluffs, El Paso, Jacksonville, our non-emergency teams and Special Projects divisions.