OUR VISION is to be the BEST Service Provider to the Railroad and Related Industries.
Mission
Through our dedicated employees, we will be the best service provider by our total commitment to customer satisfaction, increasingly efficient operations and asset utilization while providing an ever-improving safe and rewarding work environment.
Philosophy
At the R. J. Corman family of companies, each of our employees strives to uphold our key values, or "Big Rocks" every day. We believe that if we all focus on these things, our Vision to be the best service provider to the railroad and related industries will remain true.
Big Rocks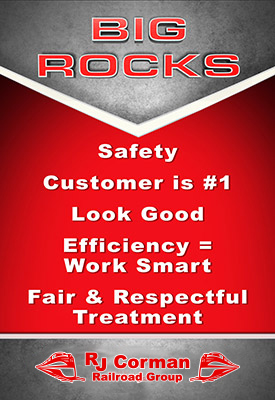 Our Big Rocks were created by our founder, Rick Corman, as our formula for success.
Safety
The safety and health of our employees is our top priority – on and off the worksite. Our safety culture is characterized by constant awareness and an adherence to safe operating practices at all times in the communities where we work.
Customer is #1
Our success is based on the success of our customers. We partner with our customers by being attentive first, then exceeding expectations with effective solutions.
Look Good
You can't be good unless you look good. Our discipline, attention to detail, and pride in our work manifests itself in the appearance of our company's facilities, equipment, and personnel.
Efficiency = Work Smart
Efficient business operations maximize our value to our customers. By dedicating ourselves to continuous improvement, we identify and implement methods to reduce wasted time, effort, and material.
Fair & Respectful Treatment
Our people are our most valuable asset. We are committed to an ever-improving, safe, and rewarding work environment free from harassment and with equal opportunities for advancement.
Safety Is Our Priority!
Working on or around the rails can be very dangerous and requires attention to safety at all times. As a railroad operator, safety is our primary focus. This includes the safety of the general public as well as our employees. R. J. Corman companies have extensive safety programs in place.
Our Safety Department is led by a Safety Manager and two strategically placed Regional Safety Representatives armed with training materials, compliance audits and a sharp eye. Our Safety Department personnel travel to all of our locations to maintain our sharp focus on this essential behavior.
Safety Principles
Developed by our Corporate Officers, the core safety principles held by the R. J. Corman family of companies are listed below:
We expect 0 injuries.
Working safely is a condition of employment
We are committed to safety training
Job safety is important to each of our families
Safety is good business
Safety Pledge
Every R. J. Corman employee signs the following Safety Pledge:
The safety and well-being of employees is our priority. No job is worth sacrificing the health and safety of our employees.
Workplace safety is every employee's responsibility, every day and on every job. Our focus and attention to working safely demonstrates our belief in critical core safety values and our achieving acceptable standards of workplace behavior.
All of our employees, at all levels of our organization, make a significant contribution by ensuring that working safely allows us to be the best service provider to the railroad and related industries.
No job is so important, no service so urgent that we cannot take time to perform all work safely.
To illustrate that safety is my priority, I commit to the following:
Perform my job in a safe manner
Wear proper PPE at all times
Perform job briefings at the start of work and throughout the day as required
Know and report the hazards associated with each job I perform
Comply with all safety guidelines and programs
Immediately report all workplace incidents and near miss incidents
Health & Wellness
As a means to address our country's declining medical state, R. J. Corman has taken proactive steps to improve the health and wellness of its employees. All employees are encouraged to participate in our wellness program. R. J. Corman vehicles and property are also completely tobacco-free.