August 9, 2019
K9 Units on the Star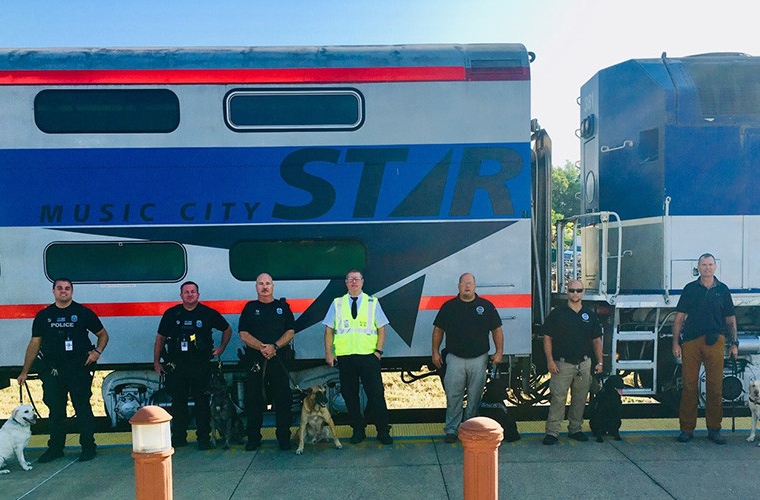 This August, R. J. Corman coordinated efforts with the Transportation Security Administration (TSA) and several local law enforcement agencies for two days of K9 unit training in Tennessee. During the first day, the units tested their skills at the Transit Solutions Group (TSG) yard in Lebanon. On the second day, officers brought K9 units for training on the Music City Star commuter train.
On day two, the K9 units boarded Star Train 152 at the Mount Juliet Station. These canines had been specially trained to sniff out explosives. The K9 units walked throughout the train that was carrying 321 passengers. The goal was to get the dogs familiar with riding trains in case of a real-life emergency in the future. While K9 unit dogs may be used to riding in cars and trucks, the motion of a moving train feels different. It is important to acclimate them to the experience of riding on a train and being around passengers. The K9 units rode the Star across its entire route which goes to Lebanon and Nashville.
R. J. Corman employees worked hard not only to aid in the planning and coordination of this event but also during the training to ensure that the dogs were able to board the train smoothly and that passengers were made aware of what was happening. R. J. Corman's interactions with the units helped to further build good synergies with local law enforcement agencies. We strive to support our officers and officials. Additionally, our customers and passengers can rest assured that we have good relationships with local law enforcement.