August 7, 2017
R. J. Corman Railroad Company 30th Anniversary Edition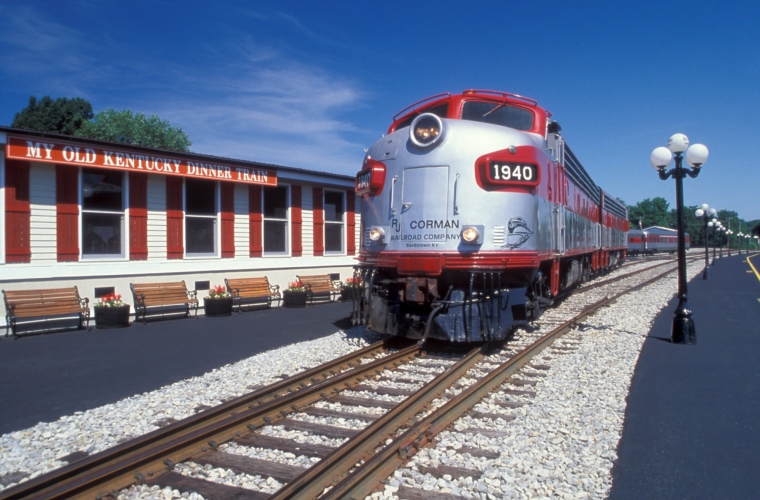 This edition of The Mainline commemorates the 30 year anniversary of our short line railroads. Through Rick Corman's vision, the company has grown from two short lines in Kentucky to eleven short line railroads spanning 904.09 miles of track across the nation.
Mr. Corman's entrepreneurial spirit and can-do attitude paved the road for the company's success and to this day push us to think outside the box and refuse to say anything is impossible. This is only one of the many reasons I am grateful for the time I got to spend learning from Rick.
I am honored to serve as the Railroad Company's President and continue working to uphold R. J. Corman's reputation as a leader in the rail industry.
I would also like to extend my thanks to our employees and their families for the role they have played in getting us to the top of the industry. Without each of you, this would not have been possible.
Thank you all for being part of this great journey.
Brian Miller President,
R. J. Corman Railroad Company, LLC
R. J. Corman Railroad Company was founded with Rick Corman's purchase of the Bardstown Line in January of 1987. Eight months later, he purchased the Memphis Line in Guthrie, Kentucky. Those two lines, spanning 180 miles of track, were only the start of would soon become a 904.09 mile short line operating company. This year, the company is celebrating its 30th anniversary with a look back at its founding. In addition, we've included spotlights of employees who played influential roles in the life of the company, memories of Rick Corman and a timeline which showcases the company's success over the last three decades.
A 30 Year Legacy
We proudly operate 11 short line railroad companies spanning Kentucky, Mississippi, North Carolina, Ohio, Pennsylvania, South Carolina, Tennessee, Texas and West Virginia.
Beginnings
In 1973, Richard J. "Rick" Corman began his career in railroad construction with a backhoe, a dump truck and a tenacious spirit. Driven first by his remarkable operator skills and then by his commitment to safe and reliable service, Rick's goal was to become one of the nation's leading railroad service providers. For the next 40 years he worked to establish the railroad service company that is now known as R. J. Corman.
Today, R. J. Corman Railroad Group is headquartered in Rick's hometown of Nicholasville, Kentucky, and has field locations in 23 states. The company serves all seven Class I railroads, many regional and short line railroads as well as various rail-served industries. These operations encompass an array of services, including: railroad construction, short line railroad operations, dispatch, industrial switching services, emergency response, track material logistics, distribution centers, signal design and construction, building eco-friendly locomotives, railroad worker training and an excursion dinner train. The company's diversity has given them the ability to service all aspects of the freight railroad industry at any scale.
In January of 1987, Rick Corman confided in his brother-in-law and loyal employee, Jerry Adams, that he was considering purchasing a short line railroad from New Hampshire North Coast Land Rail. Before purchasing the short line, Rick, Jerry and another R. J. Corman employee, Lloyd Godfrey, walked the 67-mile line in its entirety to check it for bad ties. This was long before the time of radios and hi-rail gear, so traveling the line on foot was the most effective way to perform an inspection. A few weeks later, R. J. Corman was the proud owner of its first short line railroad, the Bardstown Line. At the time of purchase, the line was shipping approximately 1,100 cars a year and servicing customers such as Bird, Inc., Owens-Illinois and Barton Brands. The line's first engineer, Bobi Blunt, was one of Kentucky's first female train engineers. Later that year, in August, the same trio performed a walking inspection on 180 miles of track in Guthrie, Kentucky. This short line became R. J. Corman's second acquisition, the Memphis Line.
Customers
Thirty years ago, R. J. Corman got its start in the short line railroading business with the acquisition of the Bardstown Line. The same year, R. J. Corman began operations on its second short line, the Memphis Line, a 113-mile railroad stretching from Bowling Green, Kentucky to Clarksville, Tennessee. Today, R. J. Corman operates 11 short lines in nine states totaling 904.09 miles of track.
R. J. Corman Railroad Company moved over 65,000 railcars in 2016. The company owns more than 100 locomotives across their railroads, as well as approximately 500 railcars. An in-house engineering department performs all required track inspections and maintenance on R. J. Corman's short line railroads. An additional team of mechanics is responsible for all of the regular maintenance and upkeep associated with the company's fleet of locomotives. In the past six years, R. J. Corman completed over $55 million in capital improvements, including the replacement of 310,000 ties across their short line properties.
The largest railroad in the R. J. Corman system is the Pennsylvania Lines, consisting of 243 miles of track which run through the ridges and valleys of north central Pennsylvania. R. J. Corman also operates the Tennessee Terminal Railroad, which interchanges with BNSF Railway in Memphis, Tennessee. R. J. Corman celebrated the 10th anniversary of this terminal in March 2016. R. J. Corman's Central Kentucky Lines consist of nearly 150 miles of track. These lines service 31 customers and interchange with CSX Transportation and Norfolk Southern. In August 2015, R. J. Corman purchased a 78-mile railroad in North and South Carolina and leased 14 connecting miles from Horry County, South Carolina, for which they restored all necessary Surface Transportation Board authority to begin operations on the lines. Last year, R. J. Corman was awarded a USDOT TIGER VIII grant to carry out an extensive rehabilitation project on this railroad.
We proudly haul: aggregates, agricultural products, building materials, chemicals, food products, metal products, military machinery and equipment, petroleum, plastics, railroad materials, wood and paper.
Expansion
The Staggers Rail Act of 1980 allowed for the significant deregulation of American railroads. Once the act was passed, larger railroads were able to evaluate their lines and sell off their smaller or less profitable spurs. As a result, companies like R. J. Corman began purchasing these short lines and taking over their operations to be a value add for both Class Is and end-of-line customers.
Accomplishments
65,000+ Car Loads Per Year
904.09 Track Miles
9 States Served
American Short Line and Regional Railroad Association Jake Award with Distinction:
1999 2000 2001 2002 2004 2005 2008 2009 2010 2011 2012 2013 2014 2015
American Short Line and Regional Railroad Marketing Award:
2005 2008 2009 2011 2012
Transportation Investment Generating Economic Recovery Grant:
2010 2016
Argus Rail Win-Win Award:
2013
Railway Age Magazine Short Line of the Year:
2007