October 14, 2019
R. J. Corman Railroad Switching Company, LLC Awarded Contract at Logistics Park Near Houston, TX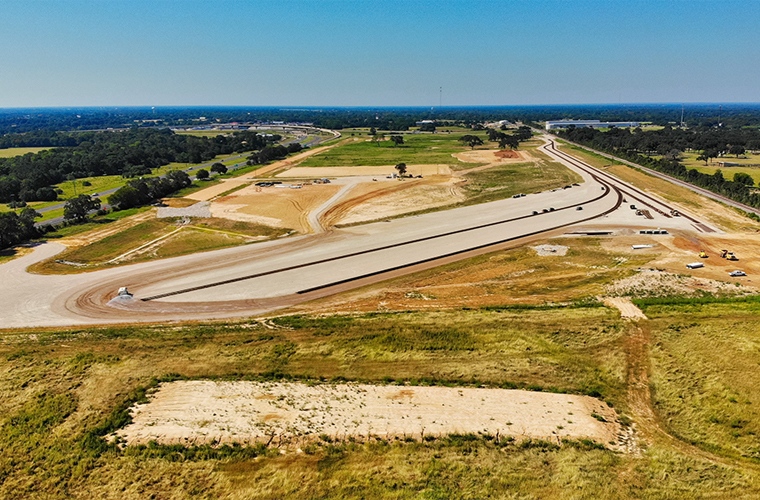 R. J. Corman Switching Company, LLC was awarded the contract to be the switching and transloading provider for the 137-acre multi-modal Hempstead Logistics Park owned by McAlister Assets and operated by RCR Rail Co (rcrrailco.com). The Union Pacific-served logistics park is in Hempstead, TX, approximately 50 miles northwest of Houston, TX.
With R. J. Corman Railroad Group offering an array of rail services including industrial switching, transloading, emergency response and dispatch, we look forward to partnering with them as The RCR Hempstead Logistics Park rail operations firm. Their 46-year history and 22-state network brings a wealth of experience to the park users.
-McAlister Assets/RCR Rail Co.

The RCR Hempstead Logistics Park is located in between the Houston/Austin and South-Central Texas transportation corridor to provide expedient access to the nation's highway and rail systems. Direct access to Texas State Hwy 6 and US Highway 290 and Class I rail carrier, Union Pacific, provides advantageous routes to central, south and east Texas. The park has over 3,900 feet of frontage on Texas State Hwy 6, with 900 feet of visibility on US Highway 290. The park offers the services of manifest, transload, rail car storage, and rail car switching with controlled park access and security.
R. J. Corman will be responsible for switching and transloading the inbound and outbound freight and will interchange with the Union Pacific mainline at the park.
"This is an exciting opportunity to get in at the early stages of such a high-potential project. The services and convenient location this park offers is world class, and will be an exponential value add to the shippers that utilize the park," said Paul Lauritzen, Vice President of Transportation for R. J. Corman Railroad Group. "We will continue to be a strategic partner for our customers and the industry at large, and look forward to serving the growing shippers and cars in the park for the years ahead."
The park currently offers 15- to 90-acre manifest sites which will allow for building sizes of 50,000 sq. ft. to 500,000 sq. ft. The water & service is provided by the City of Hempstead and the electrical service is provided by San Bernard Electric Cooperative with a three-phase 12,500 volt line.
In 2019, R. J. Corman Switching Company, LLC began serving three new customers as well as added new locations for already established customers. They expanded services to include offering railcar repair services to Class I railroads and industry customers, providing onsite and mobile AAR and FRA required repairs. The company continues to focus on safe and efficient operations to provide best-in-class service.
R. J. Corman Switching Company is a subsidiary of R. J. Corman Railroad Group. Altogether, R. J. Corman Railroad Group employs more than 1,600 people in 22 states. In addition to switching operations, R. J. Corman companies provide a broad scope of services to the railroad industry such as emergency response, track material distribution, track construction, short line railroad operations, signal design and construction as well as building eco-friendly locomotives. https://www.rjcorman.com/companies/railroad-switching