June 17, 2021
Congresswoman Miller Visits R. J. Corman's West Virginia Line and Alpha Metallurgical Resources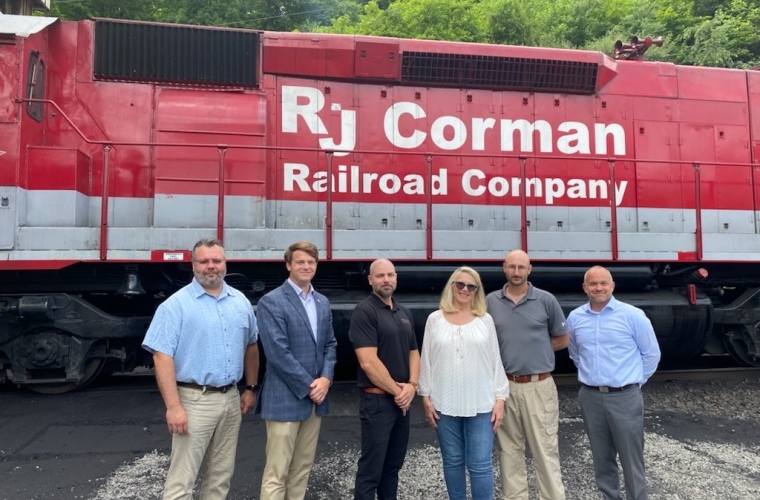 Prompted by conversations during Railroad Day on the Hill, an event organized by the American Short Line and Regional Railroad Association, Congresswoman Carol Miller, U.S. Representative for West Virginia's 3rd congressional district, and her staff met with R. J. Corman and Alpha Metallurgical Resources (AMR) onsite at the coal load-out facility in Pax, WV on R. J. Corman's West Virginia Line (RJCV).
The R. J. Corman team gave a presentation on the history and overview of our company and its various operations, highlighting successes such as partnerships with companies like AMR, which R. J. Corman has provided exceptional freight transportation services to since the beginnings of RJCV's operations in 2005. The conversations then transitioned to discussing the importance of good rail policy at the federal level like the 45G tax credit which allows for increased investment in our network to improve our safety and operational efficiency. These funds, matched by R. J. Corman's private investment, have provided critical infrastructure investments for RJCV, in the form of a Transportation Investment Generating Economic Recovery (TIGER) grant and bridge rehabilitation for the Thurmond bridge. Additionally, R. J. Corman has also built an additional siding to handle increased capacity for car movement and storage at the load-out facility. These investments are vital to the continued efficient and safe transportation of goods, and provides for growth to accommodate new, growing, or evolving markets.
Alpha Metallurgical Resources gave a presentation of their footprint in the district and state, company and industry trends in the coal market, an overview of their operations and opportunities for growth. AMR has continued to see an increase in production in the region which has resulted in more trains being moved by R. J. Corman. As a result of their growth, R. J. Corman is adding an additional crew to handle the increase in carloads and continue to provide the high-quality service that their clients have come to expect.
Following the presentations by R. J. Corman and AMR, the Congresswoman was taken to the load-out where she met with crew members from R. J. Corman and Alpha Metallurgical Resources and watched as the coal was being loaded in the railcars.
"We are glad to have had the opportunity to host Congresswoman Miller in collaboration with the R. J. Corman team. We believe it is important for our elected officials to know of our company's contributions to the development of infrastructure projects for our nation and the employment opportunities we provide for people in our region."
- Emily O'Quinn, Senior Vice President – Corporate Communications, Alpha Metallurgical Resources

"It was a pleasure to join Alpha Metallurgical Resources and R. J. Corman in Pax to see the great work they do up close. The relationship between Alpha Metallurgical Resources and R. J. Corman not only underscores the importance of West Virginia's abundant coal resources, but also the infrastructure needed to safely transport it. Thank you for sharing your companies' stories with me, providing jobs to hardworking West Virginians, and investing in southern West Virginia's coal industry."
- Congresswoman Carol Miller

"We would like to thank Alpha Metallurgical Resources for their partnership and for co-hosting this site visit with Congresswoman Miller. We appreciate the Congresswoman and her staff for their willingness to engage and learn about the short line railroad industry and importance of the critical piece of infrastructure to her district and the state. We are excited for the future growth opportunities for Alpha and the role our short line railroad will play in helping achieve those goals."
- William Downey, Director – Government Affairs